Profile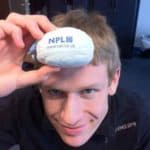 Dan Veal
It's voting day, choose wisely..... or you could just choose me ;)
Curriculum Vitae
Work History:

I did fun internships during studies at an air conditioning manufacturer (Trane, USA), a chemical company (BASF, Germany), and Uni Bonn (Germany)

Current Job:

Research Scientist (I use engineering, physics, and creativity to figure out how to build and measure things)

Employer:

National Physical Laboratory (Teddington, UK)
My Work

I work in mechanical vibration – the science of how things shake – and make instruments that test satellite parts in a lab so when they eventually fly into space I can guarantee they'll work properly.

My Typical Day: I spend a couple hours in the lab testing or tweaking some equipment I'm working on, then a few hours at my computer sorting through the data (pictures, numbers, graphs), have informal planning over a cup of coffee with my workmates, check emails.

Read more

I spend about 1/4 of my time in the lab. As an example, right now I'm building a new camera system that has a laser built in to measure the locations of little reflective sticky targets I put on things while testing to see how far/fast they move. These sticky targets are very relfective, so when you shine a laser light on them they show up as very bright spots on my camera, and I can track them over time as they move. This is not like a camera you buy in a shop or that's in your phone: I have to assemble it myself starting from the lens, mounting bits to hold it all together, and the imaging chip, then write some software to tell it to save the images on my hard drive. It's like a non-assembled, do it yourself kit!

During my job i get to work with different types of equipment, here's me in a (slightly corny) shot with a machine that uses a probe head to measure dimensions on parts, a CMM:

What I'd do with the money

Send each classroom in the measurement zone a kit to make/launch water rockets and take part in the NPL world record attempt for water rockets!

Read more

Last year, NPL broke the world record for world's LARGEST ever water rocket: 3.4 meters long. This is an actual picture of it taking off in the field next to NPL:

http://www.npl.co.uk/news/water-rocket-challenge-2011

This year, we want to break the record for most water rockets being launched at the exact same time. The current world record is 211: we think we can smash that by doubling it, with help from people all over the world.

With the £500, I'll buy the water rocket kits required and send a couple to every classroom in the measurement zone, so you can take part in the world record on June 12th, 2012.

This is a picture of a normal size rocket (2Litre bottle) taking off last year.

The nitty gritty is you'll be given the rocket to launch, and at a certain time on June 12th there'll be an app to download that coordinates the launch time, so someone will need to take a video of the countown timer and then the rocket launching, and the result will be included in the world record attempt 🙂

Here's another of some kids checking in rockets they'd built.
My Interview

How would you describe yourself in 3 words?

Curious, happy, explorer

What's the best thing you've done in your career?

During my 4th year at Uni our project was to build a dune buggy car, we build everything and even welded the frame together, it was awesome and it was all done by students.

What did you want to be after you left school?

An "engineer", but that's such a broad word and just because I did a degree in it! I'm know a bit of a hybrid engineer/scientist.

Were you ever in trouble at school?

I got a few detentions for talking during class…

Who is your favourite singer or band?

I like everything from the 60's

What is the most fun thing you've done?

I backpacked my way across China for 6 weeks with very little clue where I was going, but it was great fun.

Tell us a joke.

There are 3 types of people in this world, those that can count and those that can't.
My profile link:
https://measurementm12.imanengineer.org.uk/profile/danveal/
---